Plasti Dip Liquid Tape 118ml Red ( Brushable)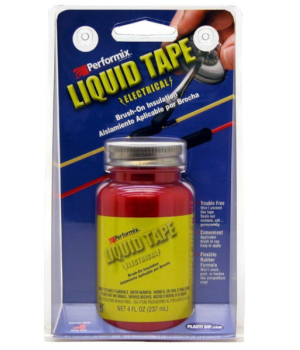 Original Performix Plasti Dip® Liquid Tape 4 oz / 118 ml Red
Plasti Dip Electrical Tape insulates and protects electronic components - cables, plugs, circuit boards, sensors, distributors, battery packs, antennas, and much more. Plasti Dip is a liquid rubber that sticks to a variety of surfaces. Plasti Dip Liquid Tape is applied by brushing and is odorless once dry.

application areas
Electrical engineering, industry, model making

What are the benefits of Plasti Dip?
UV and weather resistant
Protects against moisture, acids, wear and tear and electrical voltage ?
Insulated up to 1,400 volts/mil - approx. 56,000V per mm
Easily removable
Temperature resistant from -30°F to 200°F which corresponds to -34.4°C to 93.3°C.
Application / Preparation
Wires, terminals, or other surfaces must be clean, dry, and free of oil, grease, wax, and loose rust. Apply Plasti Dip only when switched off. Make sure there is no tension. Depending on the product, PlastiDip Liquid Tape is applied over the entire surface or partially by spraying, dipping or with a brush. Apply in several layers, leave to dry for 10-20 minutes. Apply at least 2 layers, then allow to dry for 4-24 hours before use.


Product information:
Performix Plasti Dip is already diluted and can be used immediately. By immersion (the so-called "dipping"), the immersed object is covered with the Plasti Dip and is thus protected against electric current and corrosion. This process is mainly used in the hobby and electronics sector.